[an error occurred while processing this directive]
Blog


Newsletter Day
It's the last working day of the month so that means it's time for The Last Working Day Of The Month, which has just gone out full of FACT about the next single, gigs, AWARDS and all sorts of other excitement. I really like this issue, not being SWAMPED by EITHER news of Dinosaur Planet OR Regardez, Ecoutezt et Repetez, as the past few have been, makes it feel all FRESH and NEW. If it wasn't AUTUMN I'd say it was SPRING!

Unfortunately it also contains a rather glaring ERROR, as I stated that I'm playing a gig at The Buffalo Bar on October 31st with The Lovely Eggs, Grave Architects and The School. ERROR! It's actually on Friday October 30th - I don't know why i got myself all CONFUSED like that, but it should be corrected now. It looks like being a GRATE night, I wouldn't want anyone to miss it!

posted by MJ Hibbett, 30.9.09
(click here for permanent link)
(0) comments Blackpool
There was one further ACT in my Holiday At Home, one which would take me away from home to the pleasure pots of... BLACKPOOL!

Blackpool! The legendary seaside resort which, perhaps strangely for a British Person of my age and upbringing, I'd never actually been to. I'd been to nearby SOUTHPORT many many times, because my Auntie and cousins lived there, but we'd always gone to Southport beach rather than make the short journey to its much more famous neighbour.

The reason for the trip was Mr Paul Myland, long-term Peterborough United season ticket holder who celebrated his 40th birthday on Thursday, two days before Posh were due to play Blackpool in The Exciting Championship Division. One thing led to another and soon a whole BUNCH of us were booked to travel up, see the game, and then go out on The Town.

My big day out started with PANIC as I overslept, having to DASH through my ablutions and SCARPER, making the train north with MINUTES to spare. Three hours later I was in Blackpool and in a taxi with The Glummest Driver EVER who basically told me i wouldn't get into the football ground and would be STABBED TO DEATH by the hoardes of Scottish people arriving for "Glasgow Weekend". He was incorrect on both counts.

I got to the "hotel" we were staying at to find Mr Myland in a HIGHLY AGITATED STATE as he'd just been told that he was going to be the TEAM MASCOT for the day! He was VERY excited, as well he might be, as we went upstairs to drop my stuff in his room. I have been in many hotels in my life, but none quite like this - a B&B with NOTHING in it but bedrooms, each of which had as many single beds CRAMMED into it as possible. My room had SIX of us in a room clearly originally designed as a small double. It was almost as if they had a lot of single sex groups who needed somewhere to sleep after a night out! In Blackpool?!?

I went to the pub while Mileage went off to get ready, and was pleased to see another old school pal, Mr M Guest, with whom I had a lengthy discussion about the merits of Blackpool as a city - we agreed that it certainly does have a lot of pound shops, chip shops and "bars". Any other opinions which may or may not have been expressed are available at private audience. POLITENESS.

Off we went then to the football match, where we discovered that Blackpool have three quarters of a big modern stadium, and one side which is just some chairs stood on tarmac with no roof, also known as The Away End. The highlight of the afternoon came early when the MASCOTS were paraded in front of us, Mileage EXCELLING himself by being the only person in a Posh kit to score a goal all day - you can see him briefly on the BBC mini-video thing, he's the ATHLETIC looking one at the far right of the line-up eight seconds in. We were so proud!

Almost two hours of our lives later the "game" was over (2-0 to Blackpool,both goals in the first twelve minutes) and we headed back down to The Front, where Guesty and I decided to hit the PIER. This was an EXCELLENT idea and we had a FANTASTIC time. We went on this ball-throwing/horse-racing very old fashioned game thing where we BOTH one small cuddly toys! We went on THE BIG WHEEL! The WALTZER! The DODGEMS! There were penny falls, air hockey, and about half an hour's worth of ZOMBIE FIGHTING! It was FANTASTIC!

The rest of the day consisted of some more pub and then a brief sojourn back at the "hotel" before heading out once more for LARKS in a local pub and then The Tower Lounge, a club which cost the princely sum of TWO QUID to get into! We all had a jolly old time with the BEER and the DANCING and all that, but by 11.30pm i have to confess i was KNACKERED - there'd been another Leytonstone Standing Outside Shouting Festival in our street the night before so I hadn't slept well, and also - come on! it was nearly MIDNIGHT!

When I got back I thought "I'll have a couple of hours kip then will doubtless wake up when everyone else comes in" but MIRACULOUSLY slept like a BABY. Everyone else must have been VERY quiet, it is the ONLY explanation! I woke up about 7.30am and decided to go and have a walk along the BEACH, which was rather nice at that time of day, and CLEARED MY HEAD very well before it was time to get back, say farewells to PALS, and hit the train home.

I tell you what tho, I can see why they have conferences in Brighton these days instead. By the time I got home I was DONE IN, Blackpool is KNACKERING!

posted by MJ Hibbett, 29.9.09
(click here for permanent link)
(0) comments A Big Day Out
Evening all, you find me relaxing at home after a hard day back at the office. It must have been a GRATE holiday tho, as I strolled back to work with a glad heart and an easy mind, RELAXIFIED to the MAX.

Since last we spoke much holiday ACTION occurred, especially on Friday when we went on a Big Day Out. The FUN TIMES commenced in... er... Hampstead Garden Suburbs. We'd heard MUCH about it so decided to have a LOOK, walking from East Finchley to Golders Green. The first half was a bit dull and featured The Least Exciting High Street... EVER, but once we got to the bit with Big Wood and Little Wood in it (that's what they're actually called!) it got MUCH nicer. It was a GORGEOUS day too so we got sun-tanned as we strolled among some AMAZINGLY posh houses. We got to the Central Square where there's two VERY ugly churches, and went inside one (St Jude On The Hill, i think) to discover a LOVELY lady Church Warden who told us all about the history of the Social Experiment in the area. She was GRATE and the inside was a LOT nicer!

Then we went back into town for LUNCH at Hummus Brothers. It involved a LOT of hummus and some DELICIOUS lemonade and a FAB afters called Malabi. I've never had anything like it before, it was sort of like gooey milk, with Honey that tasted like treacle, but I would like it AGANE.

We rounded the day off with a look at the Indian Garden at The British Museum, a trip to the comic shop, and then various points of interest in JOHN LEWIS for the use of VOUCHERS. We returned home tired but happy, SUNTANNED and relaxed. We'd thought of going to BRIGHTON for the day but actually staying closer to home was much nicer and EASIER, tho it would've been nice to have a PADDLE in the sea.

But then, I had that still to come, for next day I was heading to BLACKPOOL...

posted by MJ Hibbett, 28.9.09
(click here for permanent link)
(0) comments And The Nominations Are...
News reached me yesterday that I have been nominated for an award in the UK Festival Awards. I'm up for the Virtual Festivals Critics award for my performance at Indietracks.

Obviously, this is anathema to me. The very idea that one person's performance could be quantitively "better" than someone else's goes against everything I believe in with Art and Music. And the more I think about it the... well, all right, the more I think about it the MORE EXCITED i become - it's an AWARD!

And it appears to be a PROPER REAL ONE too, not just knocked up to make people vote on a website - it IS there to make people vote on a website BUT apparently there's a proper awards ceremony at the O2 centre where representatives of BIG festivals go too. It really does appear that I'm there in competition with The Horrors, Spinal Tap, Thom Yorke and LOADS of others.

ONE of these others is La Casa Azul, ALSO for their set at Indietracks. Indietracks has done AMAZINGLY well - they're in FIVE seperate categories which, I rather think, demonstrates what a BLOODY GRATE festival it is and I would implore anyone who went, or has ever been (or think they'd like to, I'm sure that's OK) to VOTE for it, just because it's so LOVELY.

I've got a feeling that my chances of WINNING are fairly MINISCULE especially as any Indietracks vote would "split" between me and La Casa Azul - tho I should point out that the vote doesn't SAY it's for an actual performance, it's for adding something "special" to the festival. And hey, did anyone see La Casa Azul STAGGERING AROUND in a VERY SPECIAL WAY for most of the weekend? Did La Casa Azul bring joy and SPECIAL bookkeeping to the merchandise stand? Were La Casa Azul dancing IN THE MOST SPECIAL WAY on the Saturday AND Sunday night? I LEAVE YOU TO DECIDE FOR YOURSELF.

So yes, all HILARITY aside, I'm really REALLY chuffed about this. I'm always up for a bit of affirmation, especially if it's sponsored by PIMMS, and am slightly childishly GIDDY with happiness that this has happened. I'm not under any illusions of victory, but if you do get the chance to vote then please, whoever you want to vote for, do take the time to vote for Indietracks.

And ME. VOTE FOR ME!

posted by MJ Hibbett, 25.9.09
(click here for permanent link)
(0) comments The Holiday Continues
Morning all, on this most auspicious of mornings for LO! It is The BIRTHDAY of The Hours In My Day! Later there will be Special Lunch, Special Tea, Special Booze and THE PRESENT PRESENTATION, and REJOICING will be all around!

In the meantime, holidays have been carrying on DELIGHTFULLY. We went to South Woodford on Monday to take the MASSIVE CLEAROUT items to a charity shop. We used to take them to one locally, where the staff were HORRID and SCOWLED at you if you brought them anything, but now that's closed so we can go to this NICE one instead, where a lovely lady LUGGED the whole lot away with a smile and a HEAVE HO.

There's also been some further ROCK ADMIN carried out. I've mastered the CDs for the My Boss Was In An Indie Band Once single and sent them to the lovely people at Short-Run CD on Tuesday. Apparently they're being delivered TODAY! They really are BLOODY GRATE, Short-Run, i recommend them WHOLEHEARTEDLY.

As I do for Wee Badgers who processed and sent out my order of BADGES in the similar time. After years of having to deal with SHYSTERS and FLIPWITS it's brilliant to have got the point where we can deal with fantastic people like these who do EXACTLY what they say they're going to do, FASTER than you'd think possible at DECENT prices. HOORAH!

The badges say "MY BOSS WAS IN AN INDIE BAND" and will be coming FREE with each copy of the single, which also contains the bootleg of Dinosaur Planet from the last night in Edinburgh AND, in a fit of extreme Being Organised, the VIDEO which I finished the other night. I have to say, much as I like all the other videos that we've done this one is FAR and away my favourite. There's parts that make me LARF just to THINK about them - it'll be online in a couple of weeks to go along with the single, i hope you will ENJOY it!

So yes, that's pretty much what's been occurring, alongside a LOT of Watching Telly, Chatting, Walking, Drinking Tea and generally having a LOVELY holiday. I recommend Costa Waltham!

posted by MJ Hibbett, 24.9.09
(click here for permanent link)
(0) comments The First Draft
As well as holidaying there have been many GRATE STRIDES forward into the shimmering future of ROCK, not least a MIGHTY MILESTONE on the road towards the presentation of Dinosaur Planet: THE CONCEPT ALBUM!

I'm sure I've spoken of this before, but the basic idea is that we take the STORY and SONGS of Dinosaur Planet (the Fringe show version) and REVERSE ENGINEER it into a proper Concept Album. Not one of these half-arsed so-called "concept albums" that EVERYBODY seems to be doing at the moment, where the only way you'd KNOW it was a concept album is because it SAYS so on the cover (Murdoch, S - I am especially looking at YOU), but a PROPER one with TALKING between the songs and EVERYTHING. PROPER!

With this in mind I've spent odd moments over the past few weeks working on the script, which has been HECKLOADS of fun - especially when it came to the bits with The Space Dinosaurs dancing THE HORNPIPE. The story has been very VERY slightly tweeked, one song has been dropped, TWO new songs have been inserted and the whole thing came to a glorious conclusion on Sunday when i came home early from Leytonstone Car Free Day and FINISHED it.

And look how PLEASED i was to have done so!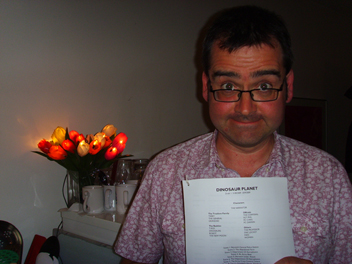 It's very much just a first draft at the moment, there's lots of tidying up to do and re-GAGGING, but it does seem to hold together surprisingly well. And the new songs sound ACE - I have spent MANY happy hours singing "Literature Search" especially. We start recording the SONGS in a few weeks and then, hopefully, the DIALOGUE around Christmas ready for release - and I'm sure I shall look back and LARF at my foolhardy optimism here, but still - next summer.

A man can DREAM, can't he? And when that DREAM features Space Dinosaurs and Giant Robots, who wouldn't want to join him?

posted by MJ Hibbett, 22.9.09
(click here for permanent link)
(0) comments Wish You Were Here
Greetings from the delightful holiday resort of Costa Del Leytonstone, where I'm having a relaxING, tho not neccesarily relaxFUL holiday.

I make the EXCITING DISTINCTION because there's not been a lot of lying around by the pool (or "puddle" as the locals delightfully call it) but there HAS been a lot of things done that have needed doing for AGES, and the completion of these tasks has EASED my MIND. The main example of this is the MASSIVE CLEAROUT that has gone on. I actually started this in December 2007 (i know the date because everything seems to have stop being FILED by then!) but since then things have ACCRUED hugely. On Saturday morning i awoke with THE URGE TO PURGE and got GOING - clothese were sorted and put away/thrown out/allocated to CHARITY. Desk drawers and The Bureau were emptied and then similarly recategorised, as were CDs, DVDs, books, comics, musical instruments, cables and EVERYTHING. It took a long HURRICANE-like day of ACTION but by the end of the day it was DONE. HA!

On Sunday we went into TOWN to look at Colombia Road Flower Market, which was lovely although I was a bit alarmed to find loads of YOUNG people there, poncing around saying "ooh let's meet for breakfast". It was SUNDAY MORNING - surely people under thirty aren't ALLOWED to be out and about at that time? I FEAR for the YOUNG!

It was Open House Day, and we visited TWO places - first of all a MASSIVE International Legal Firm called Allen and Overy (i think) who had an AMAZING building featuring lots of ART and a PATIO GARDEN on the sixth floor. It was Quite Impressive, tho I could see why they did a BAG SEARCH on the way in because even the most mild mannered type like ME would harbour REVOLUTIONARY thoughts after seeing such WEALTH. They had a whole floor that was a GYM!

Back in sunny Leytonstone we also went into our local Church and accidently got HORN SWAGGLED into attending a Bell Ringing Workshop. It was FASCINATING - they told us all about the PATTERNS that British Bells are rung in, and explained how they work. Suddenly I felt the DESIRE to become a CAMPANOLOGIST and could feel the delicious sensation of my BRANE EXPANDING as it took in all this new knowledge. AMAAAAZING!

Then we went and watched the main stage at the festival, where loads and loads of "talents" came on and sang to backing tapes. EVERY SINGLE ONE of them did an acapella song first, told us to make some noise, then did two pretty much indistinguishable songs (I didn't realise that the term "urban" actual just means "in the club style") before thanking us profusely and running off. The compere was GRATE, however, but what we really wanted was ASWAD.

Yes, ASWAD - Leytonstone Car Free Day seems to have a MIGHTY PULL with the Greats Of The Early Eighties Ska/Reggae scene, as in previous years we've had The Selecter and The Beat, who were GRATE, but it all went on so long that I finally had ENOUGH and came home to carry out my OWN little bit of ROCK HISTORY...

posted by MJ Hibbett,
(click here for permanent link)
(0) comments Record Shop Pop Quiz
Last night, for probably the first time in my life, I had FUN in a Record Shop! I KNOW!

For LO! I strolled gently eastwards to Pure Groove to meet Mr J Jervis, Mr Joel Mellin and several other delightful people to take part in their Pop Quiz. Joel is the same J Mellin who is part of the mighty Stereorrific Recording Empire and is over from The Americas for a week or so, mainly to see a DANCE GROUP doing a production involving his DIGITAL SOUNDS (I was AWESTRUCK) but also to potter around a bit. I've known him for YONKS via the magic of the interweb but had never met him in real life so this was a chance to rectify the situation.

It seemed that everyone had HIKED their as we each arrived out of breath before settling down to some chat and BEER. It turns out that Joel is PRECISELY as delightful as he always seems on the interweb (i.e. LOTS) and everyone else was dead good too, DESPITE the fact that we were in a Record Shop, usually a PALACE OF UNPLEASANTNESS. This one was very different - to be fair, they only seemed to have about EIGHT records on sale, the rest of the room being made into a BAR, staffed with some of the least Record Shop Staff ESQUE people you could meet, which made it all seem RATHER jolly.

The JOLLINESS continued as we BRANESTORMED a quiz team name ("Quorn In The USA" - MEAT (it's near Smithfield's Market and there was a MEAT theme to the quiz) + ANTI-Meat + USA plus Springsteen connection = GRATE NAME JOY) and then hit the Quiz which VEERED alarmingly between very very hard and very very easy (e.g. "Which film is this?" as we are shown a trailer... with the title in huge letters).

Now, I've been to many pop quizzes and been involved in some Unusual Rounds - top of the pile would be Charlie Fighting Cocks being our delegate in an ARM WRESTLING round in Leeds - but I've never seen COMPETITIVE DRINKING involved before. Maybe I've just led a sheltered life? This was made more unusual by the fact that people were drinking MEAT COCKTAILS e.g. Sausage & Vodka, Martini With Ham in it. It sounded revolting and apparently it TRULY WAS so I was even more pleased than usual to be out of that particular menu area, but I must say that I'm surprised that there ISN'T more (non-meat-based) competitive drinking involved in quizzes. Perhaps it's illegal or something?

I didn't stop to see if THE ROZZERS arrived as I needed to get home ready for a Big Day At Work (also known as Last Day Before Holidays) today. It seems that we only came THIRD in the end, but HEY! It's the taking part that counts, right?

posted by MJ Hibbett, 18.9.09
(click here for permanent link)
(0) comments Telling Stories
Myself and The Punchline Of My Gag went off to a bit of a DO yesterday evening, the first night of a new thing called "True Stories Told Live" where people get up and tell true stories in front of a semi-invited audience.

It was all a bit a) exciting and b) POSH as it was run by Mr David Hepworth Off Of The Word Magazine and some PALS, so there were some Actual Real-Live FAMOUS people there, and the people who I didn't recognise seemed like the sort of people who DEALT with The Famous on a regular basis, so I had to be VERY careful not to GOGGLE or POINT and thus BLOW my COOL. I find this very difficult!

It was also POSH because it was in the newly renovated Salmon & Compass, now just called The Compass, where they used to do The Hangover Lounge. GONE were the squeezy chairs, STEEL furnishings and Fancy Lager, IN were proper pub tables, WOOD furnishings, and ACTUAL BEER. This last was ESPECIALLY welcome, it was even reasonably priced!

The gig itself was a lot of fun, not least because it was running from 7pm to 9pm, so people could come straight from work and not get home too late - why does that sound eerily familiar, i wonder? Another good thing was that they had three stories in the first half and only TWO in the second, so everything felt quick and easy. ALSO good were the stories - i think my favourites were Mr Hepworth's, a Lady Author (who's name I can't remember) who nearly made everyone CRY, and Andrew Collins Off The Telly who was MOST amusing on the subject of VOMIT.

It was also quite SWEET the way that it was organised - there were FOUR people who'd organised it and they seemed especially grateful that the pub landlord had let them have the room for free - it seemed CHURLISH even to THINK "But that's what pub landlords DO if you tell them you're bringing 50 people to drink their beer" as everyone seemed awfully pleased about it. It was a bit like going to a gig your parents had organised, where they'd been EXTREMELY keen on making sure everything was just right - which, indeed, it was.

I did have the distinct feeling that we were among the youngest people there, which was a bit unnerving if A NICE CHANGE - the reason we got invited was because a while back there was a vague chance that they might ask me to do a SPOT, finishing my story with a SONG. As it happened they got Chris Difford From Squeeze to do the story + song bit which, you know, FAIR ENOUGH. Given the choice I'd've probably booked him MYSELF!

It was all rather delightful, and we SWEPT away into the night not long before half past nine thinking what a GRATE idea these early gigs are. MORE PLEASE!

posted by MJ Hibbett, 17.9.09
(click here for permanent link)
(0) comments Video and More Dinosaurs
Here's a LOVELY video by the eFestivals people all about Indietracks. I recommend it because it is a charming (brief) picture of a GRATE weekend... and not at all because it has a large CHUNK of my gig on the train in the middle of it. All right, maybe partly because of that - I do remember them doing the filming and wondering what on earth was going on, it was very hard to miss anything in a train that RAMMED!

In other news work continues apace on the video for My Boss Was In An Indie Band Once - I sent a copy of the SHOOTING SCRIPT (that's right - SHOOTING SCRIPT! Nous sommes tres PROFESSIONALS n'est pas?) to The Vlads and, at the weekend, they went and FILMED huge chunks of it. It looks GRATE - the little section where "he was pleased, to say the least" and then "he's got a brand new band" make me LARF like a LOONIE every time I watch them, and i have watched them MANY MANY TIMES. I'm hoping to get it done in the next couple of weeks - October 19 is the official release day for it, but the CDs should be available to newsletter subscribers a bit before then. There'll be emails, don't worry!

And talking of LARFING, as I recently was, I have been doing a lot of that just lately as I work my way through the SCRIPT for the album version of Dinosaur Planet, which we should be starting on soon. I know it is UNBECOMING to LARF at your own words but honestly, when you've got Space Dinosaurs from Space, talking like Pirates while dancing the hornpipe, it's hard not to. Stand by for the first CLASSIC CONCEPT ALBUM of the 2010s!

posted by MJ Hibbett, 16.9.09
(click here for permanent link)
(0) comments End Of The Road
I'm back back back from DORSET, where I spent a delightful weekend at the End Of The Road Festival. Everyone always goes on about what a lovely festival it is, and I can reveal that the reason for this is that it IS. Very well organised, everyone's happy, a very low wanker-count, plenty to eat and drink that isn't ludicrously expensive and, vitally for me this time, quite campsites.

I say VITAL because I seem to have turned into a MASSIVE LIGHTWEIGHT who cannot stay up late anymore - I went to be at 11.30pm on the Friday, which wasn't TOO bad, but by Sunday night I was in bed by 10 o'clock! That can't be right, can it? I went with my pal Simon and his brother Nick and felt a bit GUILTY about BAILING OUT so early, but they seemed to BRAVELY struggle on without me and perhaps even have some fun, altho I'm sure this was extremely difficult without my presence. Well done team!

We saw some GRATE bands - my particular favourites were The Boy Least Likely To (who we only saw by accident as we FLED from the awful DIRGE that was The Low Anthem - there was quite a lot of SLOW POINT-FREE TWINKLY DIRGE MUSIC going on, hello The Fleet Foxes!), Bob Log III (who I've heard about for ages but never seen) and Darren Hayman (who i have LUDICROUSLY managed not to EVER see - ridiculous!). I also really liked The Brakes, Euros Childs and First Aid Kit altho this latter was slightly less AMAAAZING than I'd hoped because a) they were in the tiny, Tipi Tent - annoyingly only allowing about 100 people to actually SEE the bands playing - and b) it sounded EXACTLY like on the record. I know that's not really surprising, and it IS an excellent record, but it felt slightly underwhelming. Still lovely songs tho!

There was quite a lot of stuff I DIDN'T like - there was a LOT of finger picking and "Americana" which I fear just sounds like FOLK MUSIC to me - but I ROSE ABOVE IT and didn't WATCH that. Aha! This seems to be a plan that WORKS and leaves more time for drinking RED WINE and HOT CIDER - which i feel may be the reason behind my early nights.

I also couldn't help but notice that the BEARD and Checked Shirt COMBO seems to have become quite the "in" "thing" - either that or Dorset had been invaded by particulary sickly LUMBERJACKS. You couldn't MOVE for it - the uniformity of clothing and hairstyles made indietracks look like... er... somewhere where there was a much wider variety of "look" and, now i think about it, music.

All in all tho it was DELIGHTFUL. Everybody seemed to be enjoying themselves and were relaxed, possibly due to the wide age range, with LOADS of families and people even OLDER THAN ME, so that you felt that anyone who DID get a bit lairy would be GLARED AT so sternly they would immediately have to stop. I know some people go on about this being "middle class" but personally i don't think that NOT BEING A WANKER is the exclusive preserve of the blue collared, it's just a good idea when there's lots of people in the same place.

But I have to admit my FAVOURITE BIT was perhaps just a little bourgeoise: SCRABBLE SUNDAY! We sat in a lovely field for a bit of an old sit down and were surprised to hear someone next to us explaining the rules of scrabble to her friend. "Who doesn't know the rules of Scrabble?" i thought (OK YES I KNOW, PASS THE CIABATTA JULIAN) and they noticed someone ELSE nearby playing the game... and somebody else, and soon it was like a particularly TILE HEAVY remake of THE BIRDS... until I noticed the huge sign saying SCRABBLE SUNDAY over a GAZEBO (LEAVE ME ALONE!). It was a lovely day, we were knackered, and an hour's worth of board gaming was JUST what was required.

So yes, all in all a DELIGHTFUL weekend which was a smashing way to see out the Summer. My jumper went on on Sunday afternoon which I felt like the season's end being accepted. Now for four months of sitting in pubs! HOORAH!

posted by MJ Hibbett, 15.9.09
(click here for permanent link)
(2) comments Quietness Forecast
Sorry for all the SILENCE on here just lately - this is my month off from The Road, and although there's ROCK stuff bubbling around (I've started the video for the next single, for instance) there's also quite a bit of WORK (as in my job, not ROCK work!) going on and also quite a lot of Sitting Around At Home Watching Telly. It's lovely, but not very blogworthy!

This is unlikely to change for a while - especially as I took possession of The Beatles Boxset this morning! Gosh, they really were QUITE GOOD weren't they? So far I've only listened to 75% of "Past Masters" and it is BLOWING MY TINY MIND! I'm going to the End Of The Road Festival for the weekend with my pal Simon, and we're going to have a MASSIVE BEATLES SESSION all the way there and, hopefully, back. I like The Beatles. They are GRATE, and I will stand by this RARE and ORIGINAL opinion no matter who opposes me!

Anyway, the thing I was going to mention was a FREAKY occurrence in the comic shop at lunchtime. It being Thursday I'd popped in as per and was looking through a magazine called "Crikey", which had lots of articles about British Comics in them. I spotted a page with a letter from THARG THE MIGHTY. "I got one of those once!" i thought - I'd entered a competition and was one of the lucky 175 EARTHLETS to win a copy of Titan Books' compilation of the second half of The Cursed Earth. I remember reading my name published in a long list of winners in the prog about a year later... and there, in "Crikey" was that a photograph of that very page with the list and my name! I let out an involuntary "HA!" in the queue to pay and had to EXPLAIN myself to everybody else, and left with a BIG GRIN and a massive feeling of PRIDE - OK, I admit that I got my Nan to help me with the competition, but I'd never EVER won a competition before and it was a BIG MOMENT in my young life.

Funny how these things come back to you isn't it? Much like listening to The Beatles again, i guess!

posted by MJ Hibbett, 10.9.09
(click here for permanent link)
(0) comments Dickens' London 2: THE REVENGE OF DICKENS' LONDON
We had a DELIGHTFUL weekend just gone, as we my parents came over for a couple of days of CULTURE. On Friday The Genes In My DNA and I went with to look at The Fourth Plinth (not much going on) and then a stroll around The National Gallery. I love the National Gallery,it is MEGA BRILL, PACKED with Hit After Hit After Hit of the world of ART. Call me A KRAZY ICONOCLAST but I particularly like going and having a good old LOOK at The Haywain. I think it's GRATE.

On Saturday morning we regrouped for the second half of the WALK we did last year around "Dickens' London". We stopped at The Templar's Church in Lincoln's Inn Fields but had a hard job getting back there as, for some reason, those bits of London appear to be LOCKED SHUT on weekends. We eventually found a way in via a car park, but getting OUT again was equally different. There lovely, the Inns Of Court, a bit of London I never realised were even THERE and it seems that Those In Charge want to KEEP it as secret as possible by locking them up. Later on we had a FINE old time wandering round Gray's Inn Fields but had to SQUEEZE our way out of a gate that had been left SLIGHTLY AJAR in order to avoid doubling back on 20 minute's worth of walking.

It was especially weird for me as these are bits i STROLL through some days on the way to work so was used to them being free and open. It was GORGEOUS tho and I'd HIGHLY recommend a wander through the area if you find yourself in The City Of London on a weekday. Or on a weekend, if you have a crowbar to hand.

We finished up the walk with a visit to the Dickens' House Museum which was GRATE. I am on record as LOVING a good Museum Of One Thing and this was a VERY good museum of one thing. Ooh, it made me want to nip home and READ me some LITERATURE, it was PACKED with FACTS but, because it was all made to fit into a single house, there wasn't too much with which to OUT-FACT you.

Duly CULTURED we went to The Lamb for some lunch then went down to The British Museum for some more HITS, of which it has MANY MANY MANY. We went and GOGGLED at the amazing slice of HUMAN CIVILISATION that is The Rosetta Stone before wandering upstairs in search of The Vindolanda Tablets pausing to go "COR!" at things like the Lewis Chessmen and The Sutton Hoo HOARD.

Museums! ROCK!

After all that, it was time for TEA and The Treasures In My Hoard had had the GRATE idea of going to Brick Lane, where we had DELICIOUS CURRY before saying our farewells and pledging next time to have a go at doing the same sort of thing, but with THE BEATLES. CULTURE! It's GRATE!

posted by MJ Hibbett, 7.9.09
(click here for permanent link)
(0) comments The Next Thing
Thanks very much to the SEVERAL people who signed up after Tuesday's plea/WARNING, I was really touched!

PLANNING has occurred since then and I think this is going to be a pretty groovy single, with some rather SMASHING extras. I've started the THORT PROCESS in the usual way by messing about with Photoshop - here's the first attempt at the CD onbody for it:




I think it's quite nice - it'll be functioning as COVER too, as the CD will just be coming in a transparent sleeve, but I think that's OK, isn't it? I'm thinking of putting the Dinosaur Planet BOOTLEG on as an extra, so I think that'll make up for lack of cover!

posted by MJ Hibbett, 3.9.09
(click here for permanent link)
(2) comments Another Review
On the way to the pub last night, where I enjoyed a DELIGHTFUL couple of hours talking varieties of Important Things and Nonsense with my baby brother, I nipped into one of the big bookshops on Charring Cross Road and FINALLY found a copy of the new issue of Rock'N'Reel which, I'd been led to believe (because Sean The Editor had told me!) would be featuring a nice review of Regardez, Ecoutez Et Repetez.

And it did! HOORAH! So I've added it to the Reviews Page which, as stated yesterday, looks pretty CHUNKY. I'm just getting myself back into ALBUM MODE after spending the past couple of months focused on Dinosaur Planet, ready for putting My Boss Was In An Indie Band Once out as a SINGLE next month. We're probably going to do a VERY limited edition CD of it, which will be available EXCLUSIVELY to the mailing list, so if you fancy a copy and haven't yet signed up, it might be an idea to do so soon-ish!

posted by MJ Hibbett, 2.9.09
(click here for permanent link)
(0) comments Bank Holiday Business
For several months now, with all the ACTION that's been occurring, I have been letting things SLIDE a little on the Personal Administration front, to the extent that things are in a right old STATE. My desk at home is buried beneath piles of paper (various) and the desks have become a place I open, STUFF things into, and then close quickly before the pile of unstable items EXPLODES at me.

Since around APRIL I have been saying to myself "I'll sort it out after Edinburgh" and, as not only OUR attendance but the WHOLE FESTIVAL has now drawn to a close I thought it was time to get started. I've got a week off at the end of the month when I'm hoping to do a LOT of this filing, chucking out, recycling etc etc but i'd also quite like to have some RELAXATIME then so on Monday I began the process of some MINOR SORTING.

It's amazing how enthusiasm can WANE, isn't it? I'd bought myself some BIG BLACK BIN BAGS especially, as they are KEY to any Massive Clearout (ideal for Charity Shop Destined Clothing Items AND for non-recyclable crap) but found even THESE could not maintain my interest for more than about ten minutes. Still, in between the bursts of lethargy i DID manage to get quite a lot done, including a big chunk of ONLINE UPDATES, which I've been putting off for AGES.

THUS I've finally got around to doing the reviews page for Regardez, Ecoutez Et Repetez, and there's RATHER a lot of them there! You may notice that I have NOT included any of the BAD reviews we got, partly because they were just too ANNOYING and partly because - HEY! - it's MY website! I couldn't help but notice, though, when I went through them, that the vast majority of the GOOD reviews were from places _I'd_ sent the album to, and nearly ALL of the BAD ones were from places the PR Company had sent them to. Almost as if they didn't bother to listen to the album or think about who to send it to and just used a bog standard mailing list featuring loads of completely inappropriate places that were BOUND to hate it. But surely that can't be right, can it?

ANYWAY, I ALSO updated the Dinosaur Planet webpage, which now also features REVIEWS as well as a long list of ALL the times it's been performed.

Glamorous Showbiz Producer S Hewitt and I had agreed that we WOULDN'T talk about future shows until AFTER the festival itself had finished. THUS it was YESTERDAY - MINUTES after the official ending - that I got an email from him to arrange a MEETING to do this very thing. HOORAH! We're going to talk about doing a TOUR, and also to start thinking about NEXT year when, I THINK, we're going to do a slightly AUGMENTED version.

And talking of AUGMENTING, I ALSO started on the SCRIPT for the ALBUM VERSION, which we'll be recording soon. I've been thinking about this quite a lot, knowing that I'm going to need to cut down the talky bits quite a lot, losing some of the more CHATTY bits that work all right in The Live Arena but would probably get a bit annoying if listened to more than once, and i had a couple of VERY exciting BRANE STORMS yesterday about ways that I could make the whole thing move a LOT more quickly, especially at the start where it drags a bit, whilst KEEPING most of the JOLLITY. It's awfully good fun, especially as I'm typing it up as a proper script, with SCENES and (V/O) and F/X and EVERYTHING!

I'm also completely re-doing one of the songs from SCRATCH, like what they do for Proper Broadway Shows! It's going to be GRATE!

posted by MJ Hibbett, 1.9.09
(click here for permanent link)
(0) comments

archives


View My Stats [an error occurred while processing this directive]